We Know that 90% of Brain Development Occurs in the First 5 Years of a Child's Life
Register for the Imagination Library today and remember to Talk, Read, and Sing to your child every day.
Click the logo below to register your child for the Imagination Library.  In partnership with Sonora Area Foundation , Adventist Health, and the Friends of the Tuolumne County Library,  First 5 Tuolumne is proud to offer this amazing program for your child.  All Tuolumne County children, ages 0-5, can get a free book each month mailed directly to them.  Click below to find out more and register today.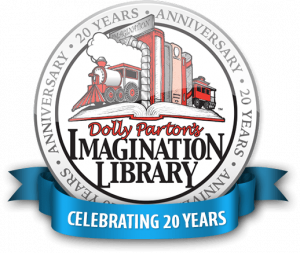 Tuolumne County 2017/2018 Investments in
Quality Early Learning
Early Childhood educators participated in professional development
Number of hours spent on professional development
hours of coaching in social and emotional learning foundations
of Tuolumne county headstart preschools participated in quality improvement
Child Development Units Taken by Early Childhood Educators
Number of Early Childhood Education Units Earned by local childcare providers and teachers
dollars invested in quality early learning in 2017/2018
years first 5 has been serving tuolumne county