What We Do
Quality Child Care
Affordable high-quality early care and learning
are essential for the life-long success
of California's youngest children and their families.
Find High Quality Child Care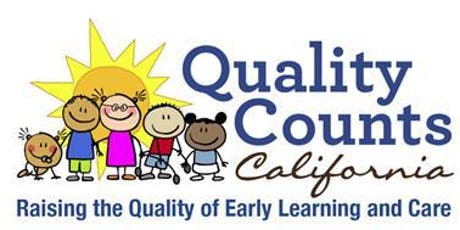 What is quality child care?
Quality child care means a program is a safe, healthy, caring and educational place for young children to learn and grow. It supports all areas of a child's development and wellbeing
.
Why does quality child care matter?
Kids in quality care do better later on, in school and in life.

Quality care supports their physical, social, emotional and mental growth.

As a parent, it lowers your stress, because you know your child is well-cared for.
What are signs of quality to look for?
Teacher-Child Interactions
Providers that talk, play, read, laugh and interact positively with the kids in their care. Providers develop children's critical thinking skills, language, and curiosity.
Ratio and Group Size
Small group sizes and a small number of kids to every adult.
Learning Activities
A mix of creative, fun and developmentally appropriate educational activities that are right for a child's age, meet their individual needs and help them learn new skills.
Staff
Caring and knowledgeable staff who have a lot of training and rarely quit. Providers have taken classes or earned degrees in Early Childhood Education.
Environment
Provides a rich learning environment with varied materials, activities and routines. Areas are healthy, clean and safe.
Program (or Curriculum)
Providers use a curriculum to meet learning needs and may hold parent-teacher conferences.
Child Health & Development
Providers make sure children receive health screenings and that children are developing on track.
How do I find quality care?
It can be hard to find and choose the best care for your child. There are different options for licensed child care programs for children ages 5 and under, including:
Child care centers

Home-based family child care programs

Preschool programs
There are benefits to all of these different types of care, but the signs of quality for all of them are the same.
Professional Development
In 2017/2018 Early Childhood Educators in Tuolumne County spent over 1,173 hours building their own capacity and improve their ability to care for our children and earned 54 college units in Child Development.
Developmental Screenings
All of our licensed private and public sites were able to participate in learning about Developmental Screenings, which taught both the providers and parents how to use the Ages and Stages Questionnaire.  
Social and Emotional Learning
Social and Emotional Learning is foundational to early education.  In 2017/2018 our early educators spent 125 hours being coached on how to help develop their program to aid in positive social and emotional development.
Click Here for an ASQ-SE (Social/Emotional) screening.
Quality Counts Rated Programs